Installation on Windows Systems
Rayfront is supported to run on Windows systems of the NT family, such as WindowsNT 4 and Windows2000. Run the program on Consumer versions of Windows (Windows95, Windows98, WindowsME) at your own risk, after checking the related notes in the system requirements section of this manual.
Starting the Installer
Run the installer, by double-clicking on the "Setup.exe" icon in the main directory of the CD-ROM.
Selecting an Installation Directory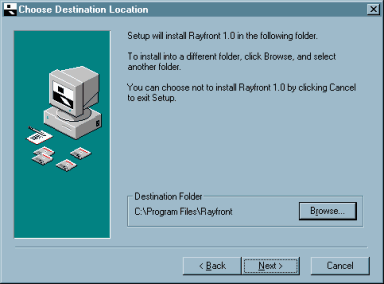 The installer then asks you where you want the program directories to reside, which will typically be in C:\Program Files\Rayfront (or the equivalent of that, if you're installing on a non-english system). Use the "Browse..." button to select a different place.
Selecting Platform Executable Files
In this page, you can select which sets of executable files will be installed. In most cases, when instaling from a Windows system, you will only want to install the executable files for Windows, which is the default.
If you install executable files for any of the unix systems available, then you'll have to check and possibly adjust the file permissions on the unix side yourself, which a Windows installer can't do for you. It is therefore recommended to install the unix executable files directly from a unix system with the seperate install script "install.ksh", which will manage file ownership and access permissions automatically.
It is an error to select no executable files at all, and you won't be able to continue the installation if you try this.
Name of the Programs Submenu
The default name is "Rayfront". This name will be used to install a submenu in the "Programs" menu under the "Start" menu. On some older Windows systems, this might create a "Program Manager Group" instead of the submenu. The submenu will contain a link to the Rayfront program, and one to the documentation files.
Finish the Installation
After setting the above and a final confirmation, the installer will copy all required files into the specified location, and make the necessary registry modifications. The copying may take a few minutes, and will continually display it's progress. Once this is done, you can start working with Rayfront. If you're installing on Windows95/98, then the installer will offer to reboot the system so that the environment changes can take effect.
After this, you might want to see if you need to configure something, and then proceed to run the program.
Navigation: